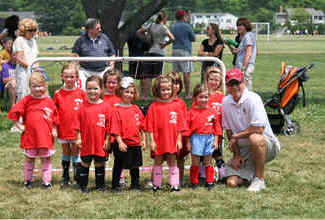 Click here for information

regarding the 2nd and 3rd

grade developmental

programs
HURRICANE SANDY RELIEF EFFORT

G.C. CENTENNIAL S.C. HOLDS DRIVE TO HELP VICTIMS OF SANDY

CLICK HERE FOR SOME PHOTOS
Under bright skies on Saturday November 17th, the Garden City Centennial Soccer Club held a drive at St. Paul's for those in need as a result of super-storm Sandy. The Club completed its final intramural soccer clinics and games Saturday while players and parents of Garden City made donations throughout the day.

The Clubs Board of Directors, along with our travel and Adelphi soccer players, collected two busloads of food, cleaning supplies and clothing which were sorted by many volunteers before heading for distribution. Led by Paul Bernieri and Adelphi Menís Soccer Coach Carlo Acquista, the bus made multiple runs down to the South Shore, making donations to the American Legion and VFW in Broad Channel, then continuing to multiple shelters in the Rockaways. We wrapped up Sunday by delivering much needed clothing and food to the St. Anthonyís Sandy Relief Center in Oceanside.
In addition to the drive at St. Pauls, the clubís travel teams donated $6,840 to the Garden City Teachers Association in support of our teachers needing assistance.
Thanks to Augie Vona for providing the bus! It proved to be a total team effort where Garden City's soccer community delivered.
HISTORY
The Garden City Centennial Soccer Club was founded in 1969, the 100th anniversary of The Village of Garden City. The Club was organized to provide the youth of the community with a positive experience through playing the sport.

The Club's registration has grown each year to the point that we are now the largest independent youth recreational activity organization in the history of Garden City.

Registration in our youth programs in greater that 2,100.
Our youth programs are open to residents of Garden City as well as any student attending a private school or school located in the village. They are designed to give everyone the ability to play and choose their level of involvement.

"Garden City Night" at

Adelphi University


Click Here for information