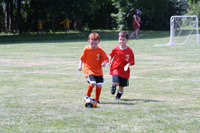 Every Player Can Win
If we do a good job, every Centennial player can win by playing in every game, by playing on a team that has a fair chance of winning and by playing in an environment that helps him or her perform just a little better every time out. Most of all, every child can win by having a good time playing soccer which, after all, is what youth sports is all about.


Fall 2017 Intramural Schedule

Saturday Sept 9th - Opening Day

Saturday Sept 16th

Saturday Sept 23rd

Saturday Oct 14th

Saturday Oct 21st

Saturday Oct 28th

Saturday Nov 4th

Saturday Nov 11th

Girls Clinic times

| | |
| --- | --- |
| Saturday's | 1st Grade 9:00 – 10:00 AM |
| | Kindergarten 10:15 – 11:15 AM |
| | |

Boys Clinic times

| | |
| --- | --- |
| Saturday's | Kindergarten 11:30 - 12:30 PM |
| | 1st Grade 12:45 - 1:45 PM |
| | |


Weekday Clinic Information
The Centennials will be sponsoring Soccer Clinics for Girls in grades 1-8 and boys in grades 1-8 that are registered in our program. Our clinic program is presenting the opportunity to those children that would like to have some fun, enhance their skills and play more soccer.


Weekday Clinic Schedule
All clinics will be held at St. Paul's.
Tuesday Schedule
| | |
| --- | --- |
| Girls 2nd & 3rd Grade | 4:00 - 5:15 |
| | |
| --- | --- |
| Boys 2nd & 3rd Grade | 5:15 - 6:30 |
9/12, 9/19, 9/26, 10/3, 10/10, 10/17, 10/24, 11/7

Thursday Schedule
| | |
| --- | --- |
| Girls 1st & 4th - 8th Grade | / |
| | |
| --- | --- |
| Boys 1st & 4th - 8th Grade | 5:15 - 6:30 |
9/12, 9/19, 9/26, 10/3, 10/10, 10/17, 10/24, 11/7

NEW RULES FOR 2ND AND 3RD GRADE GARDEN CITY CENTENNIALS SOCCER INTRAMURAL PROGRAM
The Garden City Centennial Soccer Club has been working hard for over 30 years to provide young soccer players with an environment that allows them to play and enjoy youth soccer.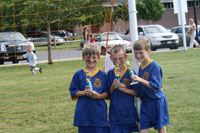 Our intramural program is based on four ideas-- everyone plays, balanced teams, positive coaching and open registration-- plus, of course, input from people like yourself. Getting as many parents as possible involved in the program helps spread the work around, as well as the fun.

Everyone Plays
Our goal is for children to play soccer, not sit on the bench. So we have a rule-- strictly enforced-- that every player must play at least half of every game.

Balanced Teams
If you've ever watched kids choose up sides for a sandlot game, you know they try to arrange even teams-- because it's more fun that way. We do the same thing by setting up teams at the beginning of every season to make them as evenly balanced as possible-- because it's more fun that way.

Positive Coaching
It's a lot of fun to win games-- but it's even more fun for a child to see his or her skills steadily improving as the season progresses. We feel that winning kids comes first, winning games comes second. What makes winning kids is being built up, not put down. They thrive on encouragement. The extra effort it takes to offer positive support to our players is an investment in their future-- on and off the playing field.

Open Registration
Our programs are open to all girls and boys who register and want to play soccer. There are no tryouts, no reserved places; and beginners are just as welcome as skilled players. We form the following divisions each season:


Girls Division VI (Grades 9 - 12)
Teams in this division are registered in an inter-league program, which is a cooperative between clubs on Long Island for non-travel players. Our teams will play against other recreational teams in either Nassau or Suffolk Counties. Typically half the games will be home and half will be away. Registration in the inter-league follows strict deadlines, so teams will be filled on a first come first serve basis.
Ninth graders have the option to play in either Division V or VI. Please indicate as such in the comments on the registration.
Girls
Boys
Kindergarten Clinic
Kindergarten Clinic
Division 1 (first grade)
Division 1 (first grade)
Division 2 (second grade)
Division 2 (second grade)
Division 3 (third grade)
Division 3 (third grade)
Division 4 (fourth and fifth grades)
Division 4 (4th - 5th grades)
Division 5 (6th - 8th grades)
Division 5 (6th - 8th grades)
Division 6 (9th - 12th grades)