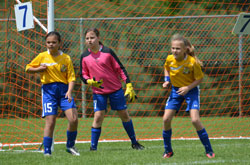 The Garden City Centennial Travel Program offers a more advanced level of soccer for players aged 9 to 19. There are several levels of play for both the recreational and competitive player. The Select and Olympic Development Programs are available through the Long Island Junior Soccer League (LIJSL) and Eastern New York Youth Soccer Association (ENYYSA), respectively.
How are players selected to a travel team?

Tryouts are held for each age group after the completion of spring season in mid-June, prior to the end of the school year. Tryout dates are posted on our website, and published in The Garden City News in late May. New U-10 teams (typically those finishing 3rd grade, or those who are age eligible) will undergo a two day tryout in early June where their individual performances will be tested through passing, shooting and dribbling drills, and small/ full sided games. Teams will be selected by outside, independent evaluators and select members of the club's Travel Committee.

All travel teams are required to tryout on an annual basis with the full understanding that no spot on any team is guaranteed. For current U-10 through U-12 teams, trying out for their next year's teams, the player evaluation and selection process will be modified with changes implemented during the June 2014 tryouts. The Garden City Centennial Soccer Club allows for player movement to ensure competitive teams and to reward individual player growth. Players will be evaluated and selected by independent parties during the tryouts with in-season input provided by team coaches and trainers. Input on returning players would include feedback related to soccer abilities, participation, sportsmanship, and commitment levels.

How are the travel coaches selected?
An advertisement is placed in the Garden City News in January, requesting interested coaching candidates to call the Travel Director for an application. The Travel Committee interviews candidates in February and makes its recommendations to the Board of Directors at the March directors' meeting. The Board of Directors then votes on the candidates. All travel coaches must have a "C" license or higher from the Long Island Junior Soccer League.

How is playing time for each child determined?
For U-10, playing time is more evenly distributed. The philosophy at this level is to 1) develop the young soccer player's technical skills, 2) increase the understanding and employment of team tactics, and 3) make the team experience fun. At the U-11 level and beyond, the game understandably becomes more competitive. While we still stress the preceding principles, playing time will be more at the discretion of the coach and is based upon the player "earning" time through exhibiting their work ethic and skill in practice and games.

What commitment is involved?
Teams practice twice a week during the season. League and Cup games are played on Saturday or Sunday, depending on the age group, against teams throughout Nassau and Suffolk, as well as Queens. The season lasts 8-10 weeks. Teams usually enter tournaments, which are often held on holiday weekends. Preseason practices begin in July, and again in January. Selection to a travel team requires a commitment on the part of all players to regularly attend practices and games.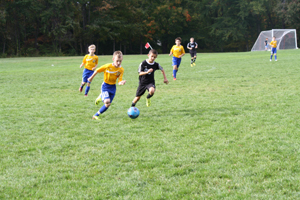 "Photo Courtesy of Newsphoto.com"