Senior Division History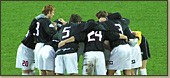 1988
The Senior Division team began participating in the Long Island Soccer Football League (LISFL). Starting in Division 3, the team was elevated to Division 2 when an opening occurred and then won promotion to Division 1.
1989
Garden City defeats Frozenone, a semi-professional team from Franklin Square, 1-0, on a goal from James Koester in a State Cup match.
1992-93
Season the Club is now in Division 2 and runs a reserve squad as well. The reserves win their division with a record of 12 wins, 5 draws, and 0 losses. The team records a streak of 24 games without a loss in League and Cup play. In the same season, the team reaches the League Cup semi-final before losing to the NY Rovers in a 5-4 shootout.
1993
Reach the Theiman Cup Final where they lose 3-0 to a strong Baldwin team; one of the team's biggest disappointments in Senior Division history.
1997
The program drops its Division 2 and reserve teams, and maintains only an 'over 30' squad.
1997-98
In a finish that goes down to the last game of the season, the 'over 30' team secures second place and is promoted to Division 1.
1998-99
After a season of many close matches, the results don't go GC's way and they are relegated back to Division 2.
1999-2000
The team is extremely competitive in Division 2 and is challenging for promotion again.
2000
Won promotion to LISFL Division 1 as champions.
2008 - State Cup Finalists
Season

Pts W T L
2010-11 22 5 7 4

2011-12 17 4 5 7
2012-13 26 7 5 2
2013-14 21 6 3 3
2014-15 17 4 5 3