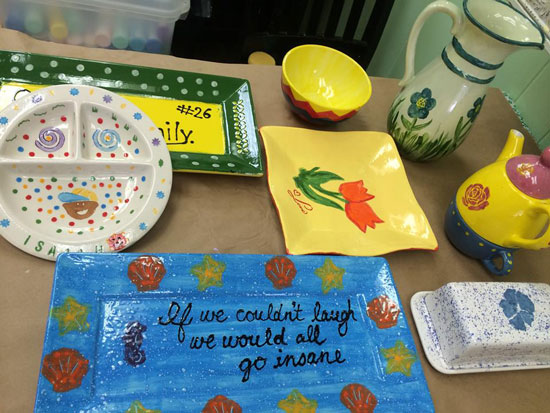 Once Upon A Dish is a fabulous, fun, paint-your-own-pottery studio for children and adults to relax, create and learn. No experience necessary to create one of a kind, totally functional, unique pottery.

No experience necessary... Create one of a kind, unique pottery that is totally functional, in a calm and soothing atmosphere that allows you to discover the artist within. Once upon a dish is a great place to bring family and friends.

What's New at the Dish!

Hi Dish Monsters:
ORNAMENT SATURDAY has become a tradition at ONCE UPON A DISH. That being said, Saturday, December 10th, is Ornament Saturday. Come in from 10 a.m. to 6 p.m. with your child and paint 5 flat ornaments, plus 1 hour's paint time, for $35.00.
Hope to see you on Ornament Saturday. It is a great way for your child to make personalized gifts to give to teachers, family members, etc., and have a fun day together.

----------------------------------------------

We have some HUGE, FABULOUS news for you.
On December 14, 2016, we are having an Adult Wine Glass Etching class. Etch 4 wine glasses to keep for yourself, or to give as a gift.
We are going to teach you the fine art of etching and give it a holiday theme.
Come make a reservation today and bring your friends too!
This is a fun and easy craft that looks like you have spent hours doing. Take home the same day, which makes a perfect last minute gift.DATE: December 14, 2016
TIME: 7 p.m. to 9 p.m.
PRICE: $40.00 for 4 large wine glasses.
Make your reservations now and don't forget to tell your friends.
Thanks for making Once Upon A Dish your No. 1 Paint Your Own Pottery Studio on Long Island