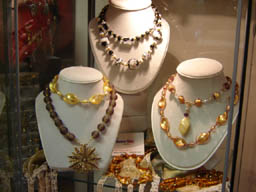 This charming shop located on Jackson Ave. in Syosset carries an assortment of unique gifts, perfect when you want something different for that special someone. At Maria's, you will find an interesting array of jewelry, ceramics, kids gifts, pocketbooks and much more

If it is wonderfully creative gift baskets that you are looking to send to brighten someone's day, let Maria create something fabulous that will surely leave a lasting memory. (Shipping Available)
Unique Gifts, beautiful gift baskets, creative party favors or a wonderful gift certificate, stop by Maria's and let us help you find the perfect gift.




Some Sample Products Below