Want to referee?
To register for the referee training program, please submit your name, age, address and phone number to Sandy Young, 739-1305, or Rick Harken, 747-0350. Travel players should include the team name for which they play.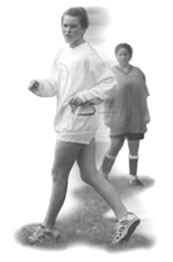 The Garden City Centennial Soccer Club runs an in-house "Grow Our Own Refs" program for older players (grade 7 and above) who are registered with the Club. Successful graduates are eligible to referee intramural games and are financially compensated. The Referee Coordinator assigns the referees to games.

The training for new referees will be held in the first or second week of March at St. Paul's Field House. An announcement will appear in the Garden City News and on this web site.

A mandatory meeting for returning referees will be held the third week in March at St. Paul's Field House.

Have a question about the rules of soccer? Find the answer in FIFA's Laws of the Game, or check out the Centennial's Amended Rules.