A Solid Piece of your Marketing Strategy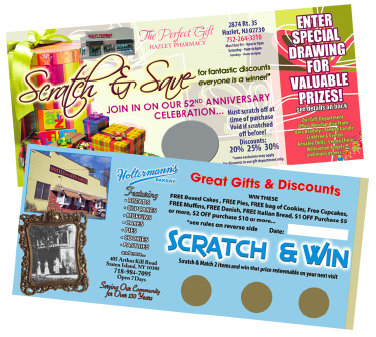 Most successful retailers realize that there is not just one strategy available that is the "magic wand" for your business marketing. Well known Coupon magazine and Co-op envelope advertising companies in many instances are successful with bringing the clients in to your business for those special offers. But what happens after that until the next roll out of those offers? People seem to wait and time their purchases to those offers.
How do you get them to keep coming in? Here is a solid piece you can incorporate into your marketing strategy which enables you to get those customers to come in time and time again!
National chains have been using Scratch & Win type game cards for years. You probably assumed that only a giant chain could afford to produce and implement a such a promotion. Well, here's the good news – you can offer YOUR customers a scratch & win game which is affordable on any marketing budget and typically have a much higher success rate in producing POSITIVE RESULTS than any other form of Direct Marketing. That's why the chains continually use them!
DIRECT HITZ MARKETING can produce custom Scratch & Win Promotions for your business! Prizes can include free products or services, discounts on your products or free premium items. You can determine the prizes and how many winners there will be
You can also tie in a Store Drawing by having your customers fill in an entry form on the back of the SCRATCH Off cards and deposit in your store. This will enable you to collect valuable customer data including email addresses & birthdays for future marketing campaigns.
We can also add a section on the back for additional Money Savings Coupons which will help bring customers back for the offers. The bottom line is that customers love these scratch & win games because people love to "win something". That's why they keep on coming back over and over again!