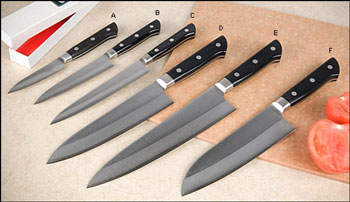 The Sharpening Shop is the place for all your cutlery needs. Whether you are buying or sharpening some knives, we will take care of you!

Your needs are achieved through the use of a knife sharpening process that gives your knives a sharp, accurate edge that will meet or exceed the original manufactures specifications.
Give us a call if you have any questions at (516) 978-4773.

Precision Knife Sharpening Service
Why have your knives professionally sharpened?

All knives lose their edge over time, even if you use a sharpening steel on a regular basis. Periodic sharpening by a professional will ensure that your knives have the proper angle and will ensure the blades maintain their edge longer.

Master Cutler & Knife Sharpener, Charles Robertson
Specializes in Traditional & Asian knives, Fabric/Pinking Shears & Professional Hair Cutting Scissors (516) 978-4773

Offering precision sharpening and blade repair of:



Hunting & fishing knives


Kitchen knives



Pocket knives and lock blades


Scissors and
Taylor Shears
And just about
ANYTHING ELSE
with an edge