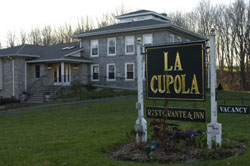 Located in Historic Litchfield, Connecticut, La Cupola Ristorante & Inn offers the bride-to-be the opportunity to plan a wedding reception that is as unique and individual as she is. Please call us to schedule your personal consultation and to see our wonderful, unique menus.

Her engagement party, bridal shower, rehearsal dinner, and reception can all be memorable at this charming 1849 granite house with newly constructed dining and banquet rooms. La Cupola offers three different rooms to accommodate an intimate reception for 35, or larger parties of 250-300 guests. Or have the Cocktail Hour held under a white tent overlooking the pond. Four charming guest rooms have been added to provide lodging for wedding guests and a complimentary room for the bride. The elegant foyer balcony and staircase provide the perfect backdrop for wedding portraits and the landscaped grounds the perfect setting for bridal party photos........granite benches by the pond rimmed with cattails or the split rail fence overlooking the river. Your first meeting with La Cupola owner Frank Rosa begins the personalized service that sets La Cupola apart from other catering establishments.

ONLY ONE WEDDING PER DAY...
It truly is your place for the day!
"We customize every aspect of the reception to what the bride would like. If she knows exactly what she wants or if she wants my suggestions, we can do that and still work within her budget. She's not limited to just two or three fixed menus with set prices. That's not what we do here. We can help her with everything......the cake, the music, the flowers. Our chefs are professionals, we are known for our delicious food already in our restaurant. And that's the same food we prepare for parties. The weddings we've had here are La Cupola were all different, all beautiful..... the people were so happy. That's what we do, we make the day special for everyone, the way it should be." You deserve to be 'catered' to, not just a name and date in the reservation book. Let the staff at La Cupola make your special day memorable! Frank Rosa, Owner