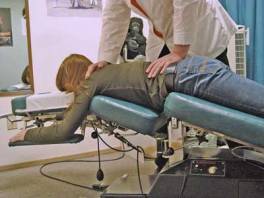 Flexion-Distraction:
Flexion-Distraction is an excellent technique for treating specific conditions that affect the lower back. It is a gentle and extremely effective chiropractic treatment. Flexion-Distraction is a safe alternative to back surgery. Flexion distraction is very successfully by allowing the disc to assume its central position, therefore relieving irritation of the spinal nerves. Many patients experience relief after 3 to 5 treatments. Flexion-Distraction should be considered for patients whose pain has not responded to other types of care.
Conditions that Respond Well to Flexion-Distraction:
· Failed Back Surgical Syndromes
· Disc Herniation/ Ruptured Disc/ Bulging Disc/ Herniated Disc
SPINAL MANIPULATION:
Spinal manipulations (adjustments) are safe and effective techniques used to correct areas of the spine that have a decrease in motion. Spinal manipulations return the vertebrae to their proper position. Spinal manipulations are done by hand and are usually associated with an audible "popping" sound.
ACTIVE RELEASE TECHNIQUE (ART):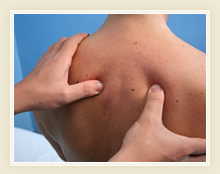 ART is a technique that involves the evaluation of texture, tightness, and movement of muscles, fascia, tendons, ligaments and nerves. Abnormal tissues are treated by combining tension with stretching.
Conditions that Respond Well to ART:
· Headaches,
· Back Pain,
· Carpal Tunnel Syndrome
· Shin Splints
· Shoulder Pain
· Sciatica
· Plantar Fascitis,
· Knee Problems
· Tennis/Golfers Elbow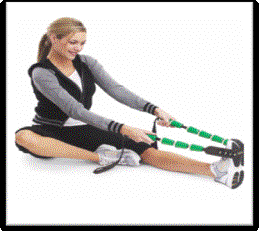 PHYSICAL THERAPY:
Physical therapy techniques are used to help further reduce pain, muscle tightness, muscle spasms, and strengthen muscles.
· Electrical Stimulation
· Core Stabilization Exercises
· Stretching/Strengthening Exercises
· McKenzie Exercises