Click Here TO Join Our
Birthday & Anniversary Club
Restaurant Photos
Breakfast Menu
Full Menu
Monday/Tuesday
Specials
Lunch Specials
Dinner Specials
Catering (On Premise)
Catering (Off Premise)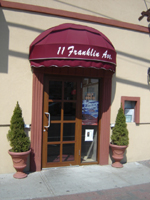 Alpine Restaurant is a casual restaurant located in the heart of Franklin Square serving breakfast, lunch, and dinner on a daily basis. Owner Teddy is originally from Greece but before coming to the United States settled in Montreal, Canada, where they learned the skill to run a restaurant. The restaurant has a wide variety of menu choices, from great pastries all the way to steaks, seafood and a great glass of wine.

Alpine Restaurant can also cater your next party in our great party room, which can hold from 40 - 50 people. We also have many catering options, so please give call us and we will make sure your day is a memorable one.

CLICK HERE TO JOIN OUR BIRTHDAY/ANNIVERSARY CLUB!
Receive a Bottle of Wine for your special day!
"Breakfast served 7am to 11am 7 Days a Week"
Along with Lunch and Dinner!