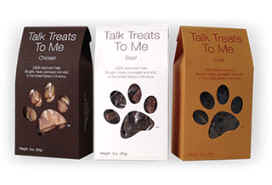 Become a Talk Treats To Me Wholesaler
USDA approved meats bought, made, packaged and sold in the United States.
Carry all three treats flavors from premium quality cuts and dehydrated fresh top round, chicken and beef liver. Considered raw by Veterinarians Talk Treats To Me are not baked and never contain preservatives, additives, artificial flavors, colors or fillers. The meats are the only ingredient. These gourmet pet treats are so healthy they are are fit for human consumption. Treats come in tamper proof package including a resealable bag.
Wholesale pricing upon request
We'll be happy to talk with you about carrying our gourmet pet treats. We'll need your phone number, email, the business name and your business address and inevitably your EIN number.

Contact us by email
Info@TalkTreatsToMe.com
Contact us by phone
(631) 991-3848