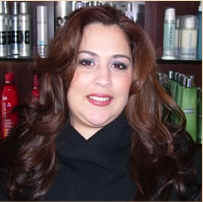 Paulette
Paulette has been a hair stylist and colorist for almost 20 years. Having been trained by Jingles, Sebastian, Wella, and Redken, she continues her education so that she can keep up with all the latest styles and trends. Paulette has been trained as a traditional make-up artist and does airbrush make-up as well.
As a part owner of Salon Beyond, Paulette goes out of her way to keep customers satisfied with our services. She looks forward to meeting you.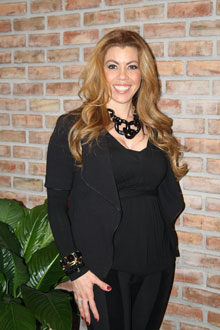 Vicky

Vicky Casey has been a stylist since 1998, she has become one of the most sought-after hairstylists in the Long Island area. Her Diverse background is the key to her success, as she specializes in many ares of the beauty industry. Vicky is not only a colorist and stylist but a Bridal Specialist/Makeup Artist with a very impressive portfolio. Working with an endless number of brides, from making them flawless for their big day, but also embracing and enjoying their special moment as well.
Adding to Vicky"s extensive knowledge of color and haircuts, she has also become a certified hair extension specialist, working with the towboats high end brands, Great Lengths and Hairdreams. Since 2004, she has been transforming short hair into long luxurious locks as well as turning fine hair into a voluminous coiffure.

Vicky still attends continuous education classes to further her knowledge in beauty and to keep up with latest trends and styles. Her education includes top companies in the hair and makeup industry. To list a few: Wella, Redkin, TIGI, Great Length, Hairdreams, Your Name Cosmetics and Mac,
The loyalty of Vicky's personal clientele is attributed to her innate understanding of what looks best on women from a female perspective. Vicky's eye for detail and color expertise has earned her the devotion of her clients. Her warm, down-to-earth personality makes her a good friend to her clients as well.
Currently, Vicky is the Salon Manager at Salon Beyond serving as a pivotal part of the management team assisting ownership with the daily operations of the salon as well as supervision of the staff.
Click here to view Vicky's Great Length Site. www.greatlengthsstylist.com/vickycasey

Lauren
Stylist/Colorist
Keratin Specialist
Lauren graduated from Brittany Beauty School in 2009 and has been specializing in Men and Women's cuts, coloring, highlighting and styling ever since. Lauren joined Salon Beyond in 2013. She continues to keep up with her education to stay on top of the latest trends. Lauren is completely dedicated to her work as well as giving you exactly what you want, come in and book an appointment with Lauren today.
Chrissy
Chrissy began her career in 1993 and has been extensively trained in special occasion hair, such as bridal work and prom styles. She has taken cutting classes with professionals, including one of Sebastian's head trainers, and those at Rusk.
Chrissy has also had color training classes at Wella, Redken, and Goldwell. She enjoys her work and keeps current with all of the new trends and styles.
Trisha
Tricia graduated from Brittany beauty Academy 11 years ago and completed her education with Jingles in NYC. She continues taking courses so her clients have the latest styles and trends.
Having been a professional stylist, colorist and make-up artist for 10 years, Tricia takes pride in her clients enjoying the whole salon experience. Having her schedule run on time and having her clients leave the salon feeling beautiful and relaxed are top priorities for her.
Moselle
Receptionist
Event co-coordinator
Nicole
Stylist/colorist
Hair Extension Specialist
Nicole has been a hair stylist since 2008, after graduating from Brittany Beauty School.
Since graduating Nicole has excelled in her ability to cut and color hair. Nicole also specializes in hair extensions, bridal hair and airbrush tanning.
Nicole is certified by Great Lengths and Hair Dreams hair extensions. She has been transforming thin/ short hair to voluminous/ long locks for women with all hair types. She has attended Vidal Sassoon, TIGI academy, Wella and Redken academy to name a few. Nicole continues to take classes to help perfect her skills in hair cutting, styling and coloring.
Nicole is innovative and stays current with fashion trends by attending classes and hair shows throughout the year. Nicole's passion for hair is apparent through her line of work, as she takes her time with each client, getting to know them personally so she can create the perfect look for them. She has a deep passion for running fashion shows at local restaurants/night clubs and other forums to promote her business, as well as the business of the salon. Follow her on Instagram and Facebook to see some of her current work and upcoming shows. #trendsetters Fashion Show!
@hairdesigns_bynikki