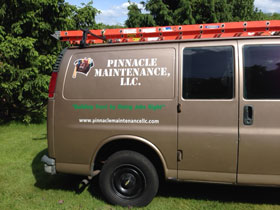 " Building Trust By Doing Jobs Right in 2020"
Pinnacle Maintenance, LLC. is a highly diverse and highly skilled team of
men and women who specialize in construction rehab and facilities
maintenance services for General Construction managers, facilities
managers and local Housing authorities. Our commitment for 2020
continues to be "Building Trust by Doing Jobs Right."

During the winter of 2019, we are under contract to completely renovate 42
units in Ellington and 19 units in Trumbull. In addition, we accomplished a
30 unit rehab project at MLK Apartments in Hartford for Millennium Group in the first quarter of 2020.

During the summers we specialize in Glastonbury and East Hartford school districts reha projects for classrooms, bathrooms, kitchens, offices and hallways. At the same time, we managed to turnover vacant units for New Haven Housing, Hartford Housing, Danbury Housing, and Pinnacle Living properties.

Pinnacle Maintenance's core business is apartment turnover and Construction rehab projects. On average, we turnover about 200 units per year. In 2018, we became certified as a City of Hartford MBE contractor and HUD section 3 certified. In 2017 we completed a $300,000 rehab construction project of 22 bathrooms for East Hartford Schools. In 2015-2016, we completed a 170 unit rehab construction jobs in Danbury and East Hampton for both Housing Authorities.

Additionally, in 2020 we began a 10 cabin interior rehab at Camp Jewel for the YMCA Greater Hartford. Pinnacle Maintenance also in 2020 became DOT certified as a DBE. The trades labor includes painting, plumbing, roofing, carpentry, windows, doors, siding, flooring, sheetrock, janitorial and interior remodeling. Pinnacle Maintenance, LLC consists of two owners and 16 skilled trade labor technicians who are the heart and soul of my company.

Pinnacle Maintenance, LLC. premier client list consists of Millennium Group, East Hartford Public Schools, Glastonbury Schools, YMCA Greater Hartford, Hartford Housing, New Haven Housing, and Danbury Housing.

Pinnacle Maintenance is licensed, insured, bonded and registered to do business with State of Connecticut. Lastly, we are registered as a minority owned business with the Department of Administrative Services and the City of Hartford. Please visit our website at www.pinnaclemaintenancellc.com for references and license documentation.
Sincerely,
Normando Moquete Jr., CEO/Owner