Restaurant/Deli/Caterer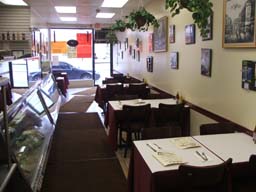 Pastrami Plus is located at 2568 Hempstead Tpke., East Meadow. This Restaurant/Deli is one you Won't Want to Miss!!
Owner/Chef Sal Gawish takes pride in all the homemade specialities he prepares everyday. He worked at a deli in Brooklyn and learned the art of handling and finishing meats, like the corned beef, brisket and pastrami. Sal controls the amount of salt and the leanness of the meat, so you will taste the delicious difference in each bite. The food goes back to the way Grandma used to cook it in Brooklyn.
Stop in and try our incredible Pastrami sandwich!

Simply Irresistible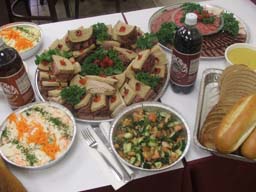 This Deli has a notable cafe ambiance that is meticulously clean with wood tables, tablecloths and chairs ready to serve you with an attentive staff.

Some of the popular items on the menu include old-fashioned Knishes, Hard Salami, Homemade Soups, including the very popular Matzo Ball. But please do try our Potato Pancakes with applesauce or sour cream, Pierogies, Chopped Chicken Liver, Stuffed Derma and Stuffed Cabbage. We have Franks, Fries, Giant Burgers, Eggs and Omelettes, Sandwich Combinations, Salads and Vegetarian Specialties featuring Hummus and Babaganoush. Entrees include BBQ Ribs in a special sauce, Romanian Steak with sauteed onions, Corned Beef and Cabbage, Roast Chicken, Roast Beef with Gravy, Roast Turkey with Cranberry Sauce and many more. Please see our entire menu

Relax and Enjoy
Pastrami Plus will also cater your next party for you. Whether it's a backyard barbeque, a family gathering or an office meeting, the delicious food will make all the difference.

Please see our complete menu on line to give you an idea of some of the innovative ways you can entertain at your next party. Give us a call to discuss the menu and then relax, we will handle the rest of the work for you so you can enjoy your guests.