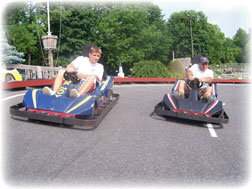 R&B Sportsworld "BEST in Family Entertainment"

Open 7 days a week, call R & B for store hours (860-738-9799)

Check us out on Facebook!

We offer batting cages (indoor & outdoor), mini-golf, go-carts, various arcade games, a billiards room, ice cream and the one of a kind experience of PHAZERBALL!
Birthday/Group Functions 祠offer birthday parties for all ages.
Hitting Clinic - Private hitting lessons available.
Kids World 毲 ages 2-5
Parties for all ages 鯵 can mix and match any activity.
Let our Birthday planners help you create the perfect party that your child will remember for years.

We can help you construct a party to fit your budget.

Just give us a call at 860-738-9799.
Group Functions 裂any size!

We will open special hours to accommodate your needs.
Team Building 馠your business is in need of team building we can set up go-cart racing, miniature golf tournaments, home run derby in our in & outdoor cages, and phazerball ꠠ the ultimate team sport.
Phazerball 毲 ages 9 and up ᠣross between lazer tag & paintball.

This no mess adrenaline rush game is well supervised and controlled.
Battleball 毲 ages 5 ᰮ

A cross between lazer tag & dodgeball ꠠ perfect for parties.
Don't forget to check us out on facebook!