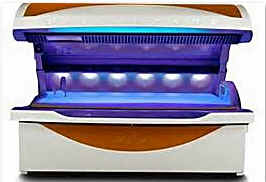 High Pressure Tanning
There are two main types of ultraviolet light, UVA and UVB. All tanning beds use a combination of these two rays, which contribute differently to the tanning process.
Tanning takes place in the skin's outermost layer, the epidermis. When exposed to UVB light melanocytes located within the epidermis produce melanin, which causes the skin to redden. When exposed to UVA light, the melanin oxidizes and causes the skin to darken to a deep golden brown.
Low-pressure beds are equipped with fluorescent type tubes, which emit high amounts of UVB rays. High-pressure bulbs are much smaller in size and can be used to tan the face of the full body. A unique filter system allows Ultrabronz beds to filter out most of the UVB rays, using just enough to stimulate the melanin leaving the UVA rays to darken the skin.
The skinny on high-pressure
Tanning is actually the body's natural defense mechanism for protecting against the sun's rays. Normally, the outer layer of skin exfoliates every 28 days but when exposed to high concentrations of UVB rays, the body is forced to exfoliate prematurely every 5-10 days. This is why low-pressured tanners must tan more frequently to keep the outer layer of their of their skin looking brown.
Because the UltraBronz filters out most of the UVB rays, your skin is able to maintain normal exfoliation, which in turn allows your skin to stay tan much longer!
The UltraBronz's SPA (18 minute session) provides color results immediately! While low pressured tanning beds require 10-15 visits to establish a base tan, an Ultrabronz bed only requires 3-4 sessions. Maintaining a tan had never been easier. Two to three visits a month will sustain the dark golden results you crave, Think of all the valuable time you will save by using Ultrabronz.