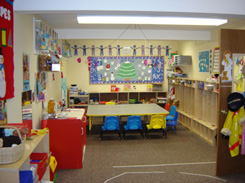 At Friends Together Nursery is a child-centered program, designed for ages 1.9 years to 4+ years. We have a spacious Multi-Purpose room, incorporating creative large motor activities including, giant dominoes, tossing games, bike riding & blocks. Our music program, Kinder Music, is part of our Monday A.M. & P.M. classes. Our Art Program has created a child-centered art exploration for our children on Wednesdays in the A.M. & P.M. classes.

Imagination and Motion Program n Thursday/Multipurpose Room and Library is used everyday. Story Time is the 2nd Tuesday every month. We also get visits from the Officer Tony, Port Washington Fire Dept, Hearing/Site screening visit from the "Great Smiles" dentist.

Friends Together Nursery Celebrating our 13th year! School Message Board Area. Below will be utilized as a Message Board to all our customers




We welcome parents to share their interests/skills with our school. Cooking, origami, step dancing, story telling, water coloring, holiday and cultural celebrations are only some of the parent activites we have all enjoyed being a part of. Please let the Director know what you would like to share.