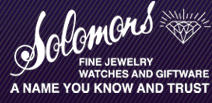 www.Solomonjewelers.com

74 Manetto Hill Plaza Plainview, NY 11803
(516) 681-6111
(Fairway Market Shopping Center)
Our Sale Continues!!!!
Come to Solomon's for your last minute gifts.
We are open Saturday and Sunday for your convenience.

Happy Holidays
from Solomon's Jewelers!

Huge In-Store Plainview Event
Now thru New Years!
Open every day thru New Years,
except Christmas day!
Extended hours, huge savings, great sales,
so come on in and
get your loved ones a gift that lasts a lifetime.