Easter Buffet Menu
$36 Per Guest children under 12 $15
Plus tax and Gratuity
Includes
Assorted Brunch Breads and a Free Bloody Mary or Mimosa Coffee Tea or Fresh Juice
Hot Buffet
Omelet Station,
Seafood Crepes shrimp, scallops, mushrooms and spinach in a lobster cream and topped with melted Swiss and hollandaise sauce
French Toast Sticks
Bacon Sausage, Home Fries
Blueberry Stuffed toast
Prince Edward Island Mussels
In roasted garlic, white wine and fresh herbs
Sautéed Chicken
With prosciutto, plum tomato, and Portobello mushrooms sauced with chardonnay
demi glace served over sautéed spinach
Penne Ala Vodka
Pan-seared North Atlantic Salmon
Topped with a sea vegetable crust served over stir-fried Bok Choy
with a Sake Ginger glaze and a Wasabi crème fraiche
Cold Buffet
Quiche
Snow Crab Legs
Shrimp cocktail
Fresh Fruit
Cheese Platter
Spinach Salad
Antipasto Salad
Bowtie Pasta Salad
Rachel's Gorgonzola Salad,
Marinated Grilled Vegetables
Dessert


Cheap Date night is back!!!!
Every Thursday till the end of March
3 course dinner for 2 with a bottle of wine $65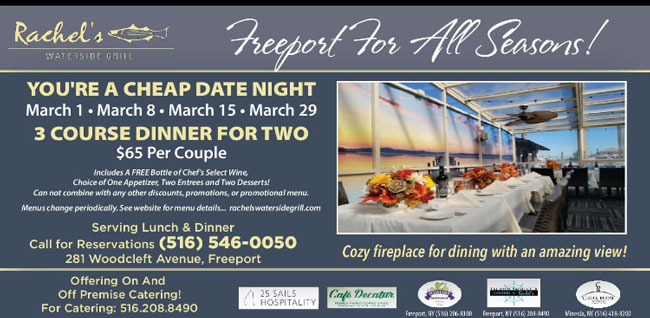 Offer needs to be shown via phone or print. This Rainy Day Deal supersedes any past Rainy Day Deals. Not to be combined with any other discount, promotion or promotional menu.
Not valid for Barter
One per table or group.