Join our
NEW REWARDS APP!
Click the Appropriate Link/Image
Below To Download the APP
LIKE US ON FACEBOOK TO
RECEIVE SPECIAL OFFERS



At Antonette's East Hills, we are bringing back the days of DINNER & DANCING. On these nights, Antonette's is transformed from a restaurant into the hottest night spot on the north shore. Enjoy an evening with friends sipping cocktails and dancing until your feet want to fall off. There is no Cover Charge for dining guests. For details about these events and for Reservations please call, 516-626-6490.
Upcoming Events

Tuesday 3/20
Body & Soul
Wednesday 3/21
Johnny Avino
Thursday 3/22
Pamela Lee
Friday 3/23
Been There Done That
Tuesday 3/27
Body & Soul
Wednesday 3/28
Al from Memories
Thursday 3/29
Frank Belluci
Friday 3/30
Soul Explosion
Our Entertainment Schedule rarely changes.
Though every once in a while, it does happen.
If you are coming to see a specific Entertainer please call to confirm.

CHECK OUT OUR
PASTA NIGHT MENU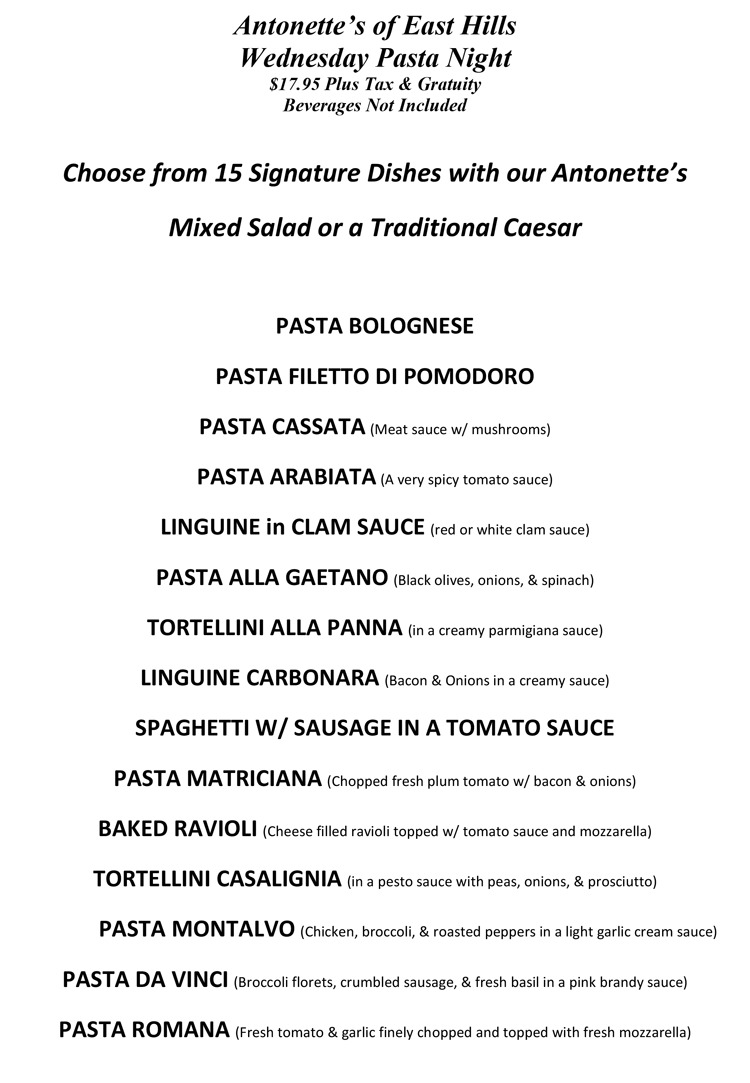 Dinner & Dancing
The perfect romantic evening awaits you every
Thursday & Friday nights
at Antonette's East Hills
Dinner & Dancing Every Tuesday
Body & Soul band starts at 8:oopm


Sunday has Family Style
with Antonette's Grandma Sauce

Lunch Special
3 Course Meal - $17.95
Tuesday thru Friday
12pm Noon to 4pm