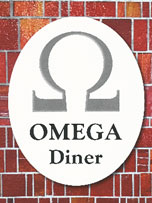 Are you in the mood for great food, unending variety, and a relaxing atmosphere? Then you have come to the right place! The Omega Diner, located in New Hyde Park, is the best place to get mouthwatering breakfast selections, lunch platters and dinner specials. We specialize in steaks, chops, seafood, and a great breakfast. Order a refreshing glass of beer, wine, or cocktail with your dinner and save room for one of our homemade desserts. All our baking is done on premises so your food is sure to be fresh and delicious. We accept all major credit cards


Eat in or take out, either way the Omega Diner is sure to satisfy your taste buds. Sometimes you just want to work through lunch or have a good diner at home. We will package any meal to go! Just stop in and order or call us ahead of time and pick up your order at your convenience

Let the Omega diner cater your next party! Call to make reservations for a business meeting or a private party. We have a minimum charge of $3.50 per person. With such a variety of foods and specials you are sure to find the perfect menu for your next occasion. Visit us for breakfast, lunch, brunch or dinner.


Click Here for This
Months Specials