Sergio's Italian Restaurant has been rated among the top ten restaurants on Long Island for 10 years in a row since their establishment in 1986. The owners pride themselves on a diverse menu filled with eclectic and traditional appetizers, entrees and desserts. Now serving Gluten Free and Whole Wheat Pasta
Monday thru Thursday is PASTA NIGHT.. Just $10.95
Early Bird Specials $13.95 - Monday thru Friday 3 - 6:30, Sat 12 - 5, Sun 12 - 4

CLICK HERE FOR CURRENT COUPON OFFERS

Celebrate New Years Eve With Elvis, Music, Dancing
from 9:30pm till 1:30am
NEW YEARS
$60 pp includes complete dinner includes beer, wine and soda, tax & gratuity.Plus a champagne toast at midnight, noise makers and hats

COME FOR LUNCH OR DINNER and RECEIVE A COMPLIMENTARY PITCHER OF BEER

Complete Lunch menu starting at $9.95 & kids menu available
We now offer a Gluten Free Menu upon request

Gift certificates available at 20% discount

Open Thanksgiving Day for $21.95 fixed dinner. Includes Soup, Salad, Turkey Dinner, Apple Pie , Coffee and cookies.

Taking reservations for Christmas parties, also Christmas Eve, New Years Eve and New Years Day.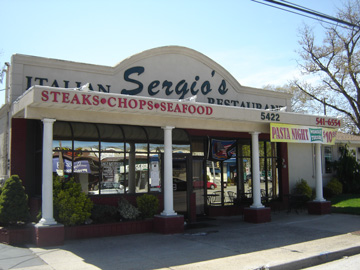 Upcoming Events Below!
Sergio's Italian Restaurant is the place for all your entertainment and dinner needs.

Celebrate New Years Eve With Elvis, Music, Dancing
from 9:30pm till 1:30am
NEW YEARS
$60 pp includes complete dinner includes beer, wine and soda, tax & gratuity.
Plus a champagne toast at midnight, noise makers and hats

Sinatra Night with Preston


Coming Soon




6:30pm - $30 per person. Includes dinner, show, glass of wine, unlimited soda, tip & tax.



Touch of Elvis with Steve Mitchell
Nov 29, January 31st
$35 pp includes dinner, unlimited soda, tax & gratuity.

Psychic Night with Robert E. Hansen
Click Here for Info Psychic Night
December 30, January 20
Dinner 6:00 and reading 7:30 $59 pp. tax & gratuity included.

Murder Mystery
80th High School Reunion
December 27
Dinner and show 7:00. $49.00 pp
Includes dinner, unlimited beer, wine & soda, tax & gratuity included.




A Night with JC - A tribute to Barbara Streisand and many others
Dec 28
Dinner and show for one price.
$35 per person - 6:30pm dinner and an 8 o'clock show.
Includes glass of wine, soda, tip & tax.

Baron Misuraca's - Retro Lounge Night with Sinatra, Dean Martin
Dec 14th
7:00pm Dinner and show for one price.
$35 Includes dinner, glass of wine, soda, tip & tax.

Italian Night with Cilvia
Dec 21st
Dinner at 7:00pm and Show at 7:00pm
$35 Includes dinner, unlimited soda, tip & tax.

Undercover sings Simon and Garfunkel
January 18th
Dinner 7:00pm and show at 7:00pm
$35 Includes dinner, soda, tip & tax.

Italian Night Of Opera & Italian Songs
Starring International Award Winning Tenor Salvatore Chiarelli
January 17th
Dinner 6:30pm and show at 8:00pm
$35 Includes dinner, soda, tip & tax.

Celebrate New Years Eve With Elvis, Music, Dancing
from 9:30pm till 1:30am
NEW YEARS
$60 pp includes complete dinner includes beer, wine and soda, tax & gratuity.
Plus a champagne toast at midnight, noise makers and hats