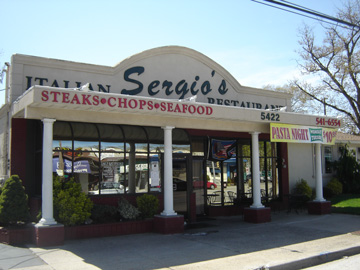 Sergio's Italian Restaurant has been rated among the top ten restaurants on Long Island for 10 years in a row since their establishment in 1986. The owners pride themselves on a diverse menu filled with eclectic and traditional appetizers, entrees and desserts. Now serving Gluten Free and Whole Wheat Pasta.
Taking reservations for graduation parties, special packages available.

New WeekDay Specials:
Monday to Thursday, Drinks 1/2 Price
Mondays Kids Eat Free


Sergio's is currently taking reservations for St Patricks Day and Easter Sunday.

Come celebrate St Patricks day at Sergios with our great $22.95 special, including Corn Beef and Cabbage, plus unlimited green beer.

We also have an Easter Sunday special of just $21.95, with a complete dinner. Enjoy some great leg of lamb, virginia ham and so much more.
Come early on Easter Sunday and get our early bird special from 12pm to 2pm.

Sergios Monday to Thursday Drinks 1/2 Price and Mondays Kids Eat Free

Sergio's is perfect for any party, with special packages available.

Pasta Night
Monday thru Thursday is PASTA NIGHT.. Just $12.95


Early Bird Specials $14.95
Complete dinner, soup and salad, entree, side of pasta, dessert and coffee. Choice of Glass of wine, beer or soda. Monday thru Thursday 12 - 10pm. Friday 12 - 6:30, Sat 12 - 5,
Sun 12 - 5

We now offer a Seafood Special:
1 and 1/2 lb lobster, with clams and mussels over linguini, only $29.95.
We also offer softshell crabs and fresh lobster.

Gift certificates:
Available at 20% discount for any occasion!

COME FOR LUNCH OR DINNER and RECEIVE A COMPLIMENTARY PITCHER OF BEER
Complete Lunch menu starting at $10.95 & kids menu available.
Complete dinner Sunday Thru Friday for $18.95.
Complete dinner Saturday for $20.95

We now offer a Gluten Free Menu & Whole Wheat Pasta available upon request.