Welcome to Nuclear Dry Cleaners. We are ready to service all your dry-cleaning needs. We have forged a solid reputation on Long Island as a reliable, professional and quality dry cleaning business. We know that regular dry cleaning prolongs the life of clothing. That's because items are being cared for professionally, according to their unique requirements. By dry-cleaning them regularly you are protecting your investment. Your clothing is an expression of your personality and image. When you look good you feel better and more confident. We're happy to make sure your always feeling your most confident.
Route Service Available - Pickup and Delivery! Call for details!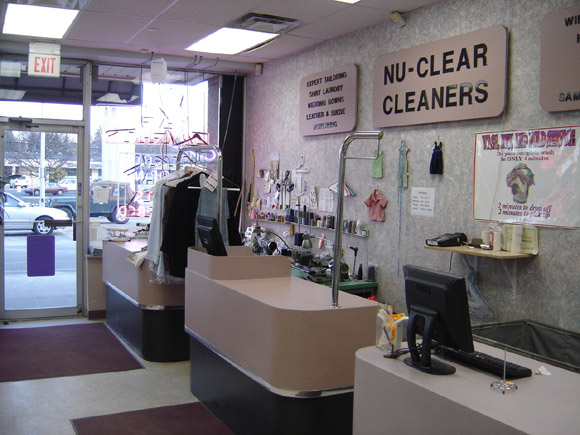 Nuclear Dry Cleaners offers a drop-in, as well as pick-up and delivery. In addition to regular dry-cleaning of garments, we offer our expertise in stain removal. We also specialize in cleaning upholstery, cushions, curtains, bedding and wedding gowns. For garment repairs or alterations, our professional Tailor will attend to all your sewing needs, "on-site and fast".

At Nuclear Dry Cleaners. we know that few things are as cherished as a wedding gown. With the careful planning that goes into selecting the perfect gown, many brides choose to heirloom their dress as a keepsake. A properly preserved gown preserves the dream of passing it down to a daughter or close family friend. While a gown may be worn just one day, and may not appear soiled, it will require careful cleaning. Hidden soiling includes perspiration and body oils. Long gowns will pick up soil along the hemline and trainand very likely, there will be food and beverage spills. Some stains, which are not immediately visible, will develop with age through oxidation causing discoloration, fabric weakness and damage to the gown. Our wedding gown specialists carefully examine every gown, establishing the most suitable method of cleaning. Inspections are made at every stage of the cleaning and preservation process. Each wedding gown receives special and individual handling, with attention given to every detail.
Website & Advertising Supplied by www.KPsearch.com (516) 741-8960