UPCOMING EVENTS
THIS WEEK at Café Z
This week we have:
Wednesday - Krazy Karaoke with Teddy O'Connell.
Friday - DOO WOP with The Rotations
Saturday - Comedy Night - Reservations Required
Next Thursday... American Idol star will be performing here ...LIVE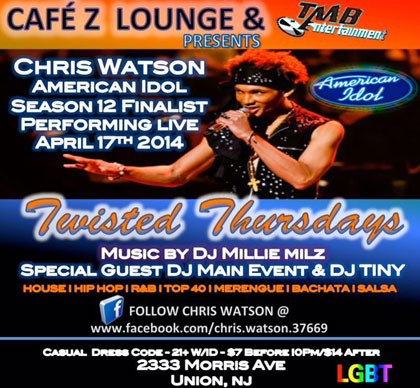 EASTER is coming... Reserve Early!!

EASTER BRUNCH
Sunday, April 20th
14.95 tax and tip additional
Includes non-alcoholic beverage, coffee/tea
12:00 – 3:00
RESERVATIONS REQUIRED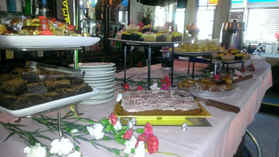 Scrambled Eggs – Deviled Eggs
Sausage & Potatoes\with onions, garlic and olive oil
Smoked Maple Bacon
Homemade Baked Apple French Toast with Cinnamon
Assorted Salads
Honey Glazed Easter Ham
Leg of Lamb
Turkey and stuffing
Mashed Potatoes
Glazed Carrots – String Beans
Mini white onions in a cream sauce
Sweet Potatoes with marshmallows
Pasta Salads
Bagels/Muffins/Dinner Rolls
Assorted Desserts
KIDS 6-10 ˝ Price
5 and and under FREE
REGULAR MENU AVAILABLE
plus the Specials will be….
Homemade Split PEA soup
Honey Glazed Easter Ham
Herb Roasted Leg of Lamb
Parmesan Crusted Lamb Chops (Rack of lamb)