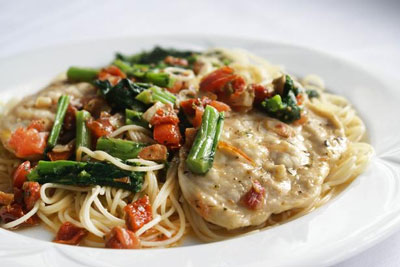 At Cafe Z, we focus on serving large portions with the freshest ingredients at reasonable prices. I think people get us mixed up with other fancy restaurant chains...we are not an ultra-fancy restaurant and we are not part of a chain, we are a family/friend- Where Friends become Family and Family become Friends.
If you like homemade pasta, fresh fish, and everything in between with a friendly environment...than this is the place for you! Check out our drink prices which we are also determined to keep reasonable. "Make a nice drink"
Our chef Jason has been with Z for over 15 years. Jason is a wonderful chef who always tries to please the customers. His kitchen is immaculate and he is always trying new and exciting entrees, appetizers and sauces. Stop in, make some new friends or meet up with some old ones!

"Gift Certificates Available in any amount". Call today. It makes a GREAT Gift.

This week we have:

WEDNESDAY - Karaoke and Buy one Pasta Entrée, Get One FREE

THURSDAY & FRIDAY ... HAPPY HOUR starts at 2:00 in the Lounge!!


FRIDAY EVENING - Music by Benny Troy

SATURDAY NIGHT - DJ Millie Milz 10:00

*******************************

Talking Pasta Video
ENTER OUR EMAIL CLUB FOR A CHANCE TO WIN
A DINNER FOR TWO.
Plus receive great Email Specials
.