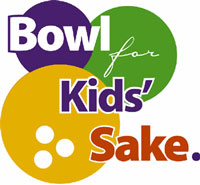 Junior bowling is where we begin our "life-long" relationship with many of our customers. Each boasts an outstanding junior league program, offering weekday afternoon "house junior leagues" and school affiliated leagues almost each day
of the week, Saturday Morning Junior Leagues, PAL
programs on Fridays Afternoons and Saturday Mornings, and Adult/Child Leagues on Sunday Mornings and Evenings.
Each center has an interested staff and "Junior Coordinator" who together with the General Manager, administer to each Junior League. Children enjoy the attention of instructors,
look forward to "Special Fun Days" where they might get their face painted (Halloween) or have a visit by the "Big Guy" himself (SANTA of course), or on any day receive a "Star Card" for being a good sport.